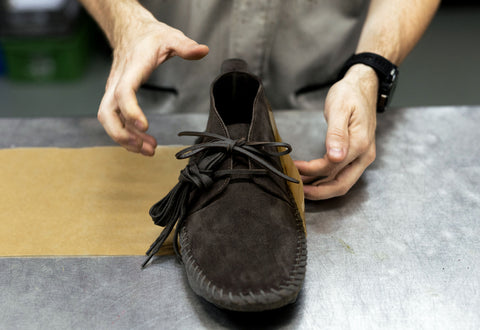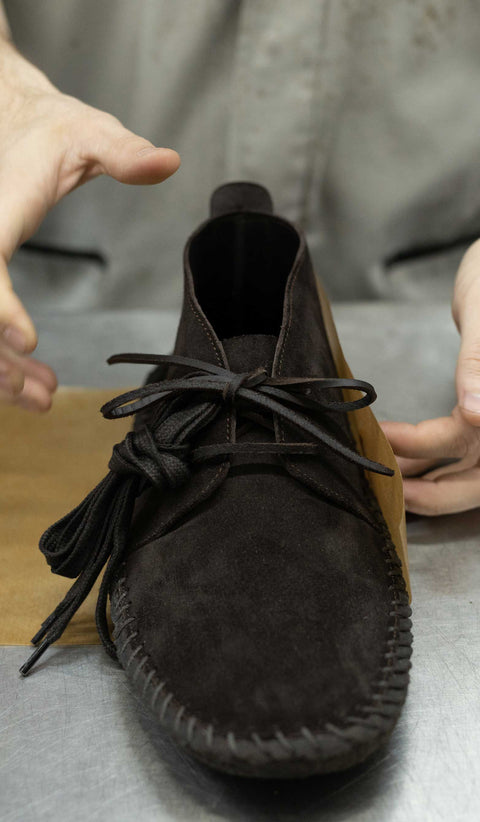 Meanforme.
We make unique handcrafted footwear, using traditional shoe making methods.
To make such beautiful and unique footwear no compromise is made on any aspect of the development, materials, or in the production methods used.
Browse
Footwear Hand Kraft.
Beautiful Tuscan leather uppers with their buttery soft finish are combined with our very own handmade crepe soles to give a luxurious look and feel. On our Risedale boot our soles are carefully hand-stitched in the stunning northern Portugal countryside by a small group of talented hand-workers.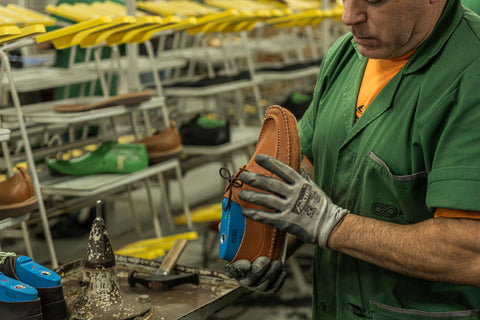 Materials.
We have sourced some of the finest leathers from around the World to produce our shoes. Tanneries such as Horween, Tempesti and Sciarada have supplied some exquisite leathers to us, to give a look and feel to our shoes like nothing else. We use a natural Malaysian latex crepe rubber to make all our soles; the latex for our soles has been tapped from rubber trees that will continue to produce for over 30 years. Even our threads, twine and laces are all manufactured locally by some of Europe's premium quality suppliers.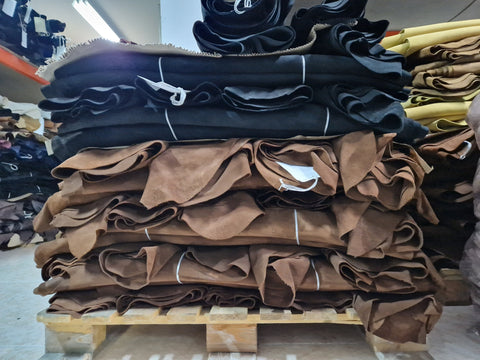 Risedale.
Risedale is a classic three-piece upper design mid casual boot. For a full leather boot Risedale is both lightweight and flexible, this can be put down to the fact that it carries no lining, insole board or even a shank.
Constructed using a flexible strobel method of manufacture, it is built for comfort. Over time the fit will relax further as the leather gives and the crepe spreads and softens.. just a little. This is when the fit becomes truly unique to that of its owner, we call this process comfort creep.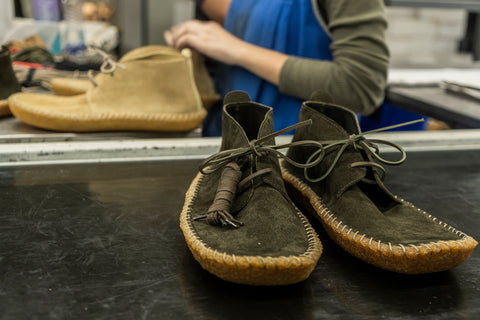 Hambleton.
Hambleton is a shoe that sits alongside Risedale in the range. Hambleton inherits Risedale's one of a kind last, its flexible and lightweight strobel construction and its thick natural crepe rubber sole.
The crepe outsole is crafted using the same hand-forming methods used in the production of Risedale, however, for this traditional shoe we have applied a very traditional sidewall stitched attachment to give a "cleaner" finish to that of its booted brother/sister. Its made with a Velopell luxury suede and lined with one of the finest soft cow leathers available. And just as with Risedale, we have made Hambleton available with limited edition quality leathers at launch.

Our Factory.
To develop and manufacture Meanforme we have partnered with a long-established Portuguese factory dating back to 1938, one that was set up by a young Portuguese cobbler - making it one of the oldest shoe factories in the county of Felgueiras Northern Portugal, a region that now boasts hundreds of shoe factories. Our factory owner was brought up in a shoe factory (more or less), having spent many school holidays in his father's factory learning his craft until taking the reins himself in 2003.
The factory is run by a dedicated and skilled local management team, making it one of the most efficient sites in the locality, and were in 2023 awarded a global recycled standard certification for its tireless work in increasing its use of recycled materials in products and reduce/eliminate any harm caused by its production. Our production team are backed with the support of a dedicated local workforce, and one of the best product development teams we have ever worked alongside.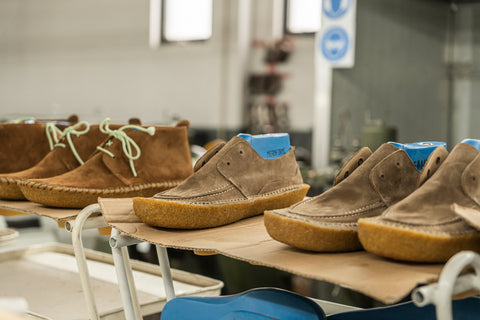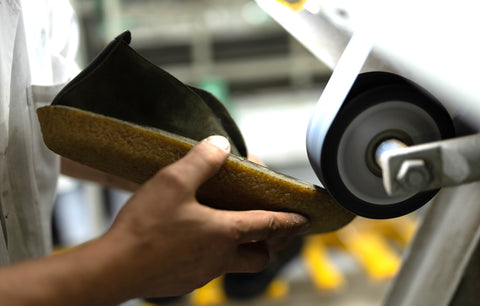 Packaging.
When purchased, the first interaction with the shoe starts with the packaging, and we want that experience to be a special one. Each pair of Meanforme are carefully checked and examined before a very light suede brush and stuffing (to preserve shape in transit). They are then wrapped in a sumptuous 55gsm waxed kraft paper (3 pieces) to prevent any possible marking of the leather and to also prevent the natural crepe soles from coming together.
Each pair is then placed into our branded Kraft FSC recycled / recyclable mail order shoe box.